---
---
WHALES, WHALES AND MORE WHALES!
---
---
Please click on the pictures to view the larger image (if available)
---
The 2004 Gray Whale migration down the Southern California Coast
~~~~~~~~~~~~~~~~~~~~~~~~~~~~~~~~~~~~~~~~~~~~~~~~
Photos by Mike M. on our 1/7/2004 Hornblower cruise
---
Humpback Whales
Humpback whales off the San Francisco, CA Coast (1999)
A Humpback whale breaching in Maui, HI (1998)
---
*** ***
"Being in the water anywhere in the vicinity of a singing Humpback Whale is like no other experience on earth. ... It is an opportunity to learn patience and to relinquish the frantic pace of the office for the unpressured rhythms of nature. It is an opportunity to make new friends, to experience the majesty, power and contrariness of nature..."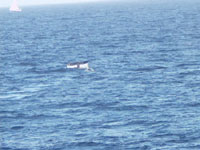 ---
Leslie's Collection of Wyland Art & Whaling Walls
Wyland Whaling Walls in San Diego, CA
Photos taken in 2003

Del Mar, CA - Wyland Hall, Del Mar Fairgrounds
#WW94 "Ride the Tide" - Dedicated on June 17, 2006
Photos taken in 2006
Wyland Mural in Vancouver, BC- Canada
#WW13 "A-5 Pod" - Completed in 1987- Photo taken in May 2006
Wyland Mural in San Francisco, CA
#WW60 "Spyhopping Gray Whale" - Dedicated September 5, 1994
52 Feet Long x 58 Feet High (Photo taken in May 2003)

~~~~~~~~~~~~~~~~~~~~~~~~~~~~~~~~~~~~~~~~~~~~~~~~~~~~~~~~~~~~~~~~

Wyland Mural in Cleveland, Ohio- Cleveland Public Power Plant
#WW75 "Song of the Whales"- Dedicated October 6th, 1997
Measurements: 300 ft long x 108 ft high
Wyland Whale Mural in Monterey, CA (1998)
Wyland's Guitar in Cleveland
One of many guitars on display around the city (2002)
Leslie & Wyland
Birch Aquarium (San Diego, CA) (2003)
---
*** ***
I was walking along the beach one day in March 2005, and noticed a cloud formation that resembled a whale...
I just happened to have my camera!
---
CHECK OUT THE PHOTOS FROM OUR OTHER WHALE ADVENTURES!







Whale Facts & Whale Watching Information Page
Check it out... you can also *view* and sign our Guestbook!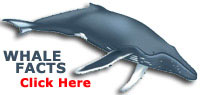 ---
Heather's Photos | Leslie's: Family & Friends Photos | Photo Gallery | Vacation Photos

Twins Days 1978-1999 | Twins Days 2000-2001 | Twins Days 2002 | Twins Days 2003 | Twins Days 2004 | Twins Days 2005 | Twins Days 2006

Majictwins Home